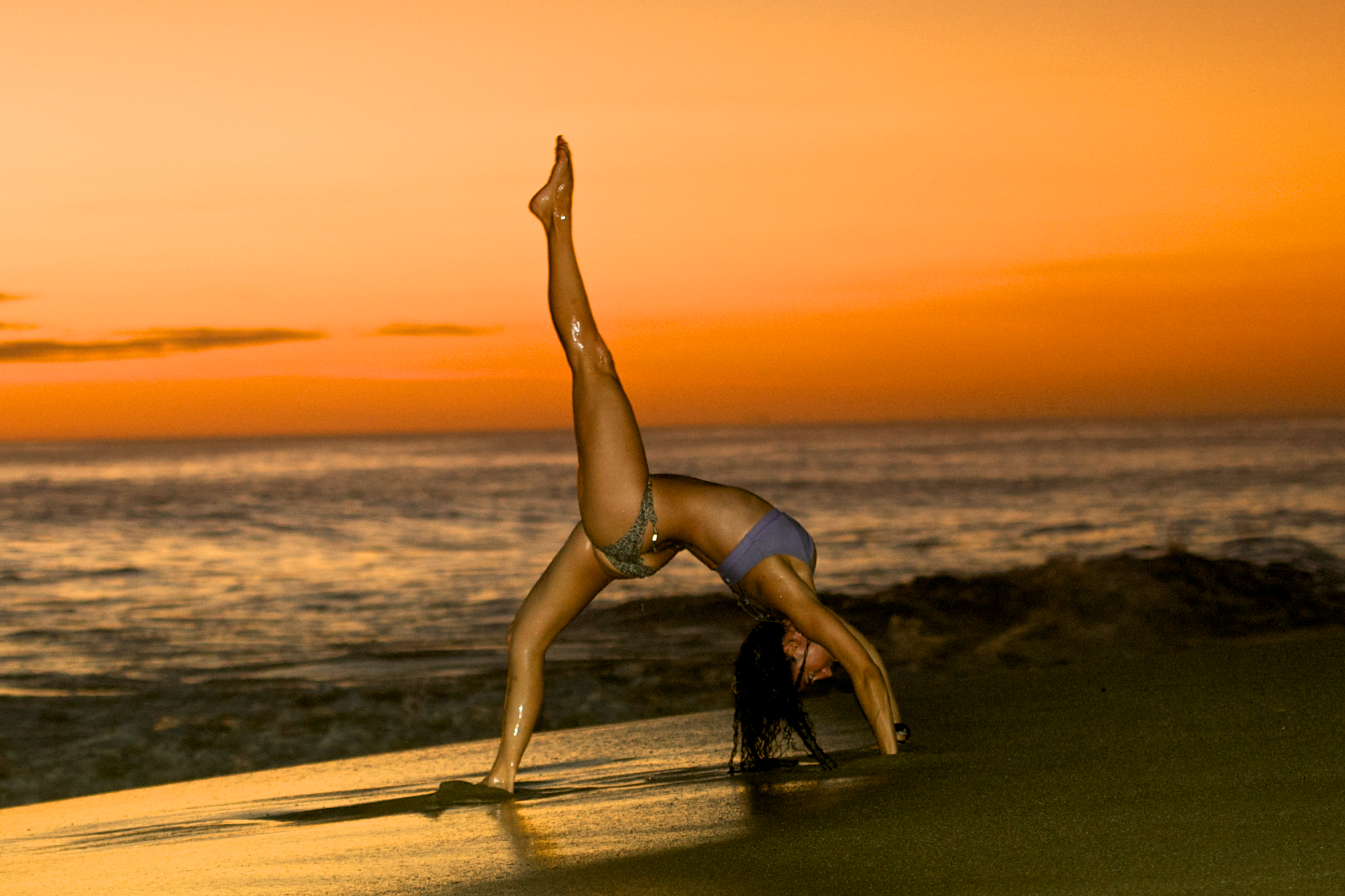 CircAsana Creation Vacation
7 DAYS OF EPIC EXPERIENCES
acro yoga | surfing | dance
RE-ENERGIZE YOUR SOUL
Take a breath and break from your everyday. Nicaragua is calling! Be transported to the breathtakingly beautiful Magnific Rock - famous for its yoga retreats - with a 270-degree ocean view yoga studio, delicious healthy meals, wellness spa, pool, outdoor activities and playground of surf spots on the doorstep.
Enjoy 2 daily CircAsana Yoga classes to learn the basics of acroyoga, sprinkled with aerial dance, slackline, and surf, balanced with therapeutic yoga, Thai massage and integrated positive psychology. We will apply the real life magic of yoga to all things movement. Learn about yourself, overcome fears, and connect to the present moment with an adventurous, movement loving, positive-minded, inspiring community.

THE DETAILS:
SLEEP | 6 nights at beautiful, ocean side Magnific Rock
YOGA | Daily acro yoga classes, arial dance, theraputic yoga
EAT | 3 daily fresh, colorful, delicious meals and daily smoothie
SURF | Surf lessons at one of the best surf breaks in Nicaragua
RELAX | 1 hour massage included
EXPERIENCE | Hot Springs Adventure
Catamaran Cruise
Slack Lining
Farewell BBQ Pool Party
All ground transportation provided once you reach Nicaragua

DATES:
August 6-12, 2017
LOCATION:
Popoyo, Nicaragua
Cost:
$1190 Triple Shared Room
$1390 Double Shared Room $1590 Private Rancho $1690 Private Studio

Deposit: $500
TEACHERs:
Amy Rowland
Previously a circus-performing lawyer yogi in Australia and Japan, Amy took a break from her corporate career to run away with the circus and learn more yoga. She performed as an adagio acrobat in Australia, studied at circus school in China, street performed in Serbia, travelled with clowns in Mexico and practiced plenty of yoga along the way.
Today Amy is a certified Sivanada Yoga teacher, Partner Acrobatics teacher, and co-founder of CircAsana Yoga. She teaches CircAsana Yoga at Magnific Rock in Nicaragua, where she also manages the yoga retreat program and coordinates CircAsana Yoga community circuses.
Saffron Van Rossem
Practicing yoga for 8 years, Saffron is a professional aerial silks performer, certified Hatha Yoga teacher, Partner Acrobatics teacher, and favourite yoga, acrobatics, hooping and aerial teacher for both kids and adults alike, from California to Nicaragua.
Saffron's classes combine her movement passions with her solid yoga foundation to create a truly unique experience. She brings focus to the profound subtleties of the body mind connection through the medium of magical moving play.
The Yoga
CircAsana Yoga is a fun blend of acrobatic and aerial conditioning, vinyasa yoga and restorative physical therapy. It works to develop sustainable strength, flexibility, grace and joy.
The acrobatic and aerial conditioning component focuses on the development of functional strength, through connected-upside-down-ness, safe flight and other creative, playful activity. Classes incorporate pulling strength, pushing strength, core strength and active flexibility, leaving you balanced, with a happy core, and ready for any physical challenge.
The vinyasa yoga element explores graceful and creative movement, synchronizing dance, breath and mindfulness to open every corner of you, inspire heart-warming peace and bring you into the present moment.
The restorative physical therapy serves as the super sweet sparkling fairy dust on top, working to stabilize the joints and balance muscle groups for a long life of healthy movement.
Challenge yourself in the space between the known and unknown, and find your hidden super powers!
Surf
Surfing is what you do in Popoyo, and there is little wonder why. With some of the most perfect, uncrowded and diverse surf breaks in Nicaragua, Popoyo has your surfing aspirations covered no matter what level you're at.
Perched atop a headland with 270-degree views of the Pacific Ocean, Magnific Rock is fortunate to be centrally located to all of Popoyo's most acclaimed surf breaks.
Not only that, Magnific Rock enjoys close proximity to some lesser-known surf breaks, coined Magnific Left and Magnific Right. These breaks catch some epic waves: the long left-hand break offering perfect sets for long-boarders and beginners, and the right-hand break offering some decent faces and the occasional barrel for the more experienced surfer.
Local Hot springs
These naturally heated pools of water are a great way to relax those worn out yoga and surf muscles!
Frequented by tourists and locals alike, the Las Salinas Hot Springs provide a rejuvenating and therapeutic experience whilst giving you a glimpse into life in the village.
Catamaran cruise
Truly experience all aspects of Nicaragua and the surrounding area with a sunset sail along the beautiful west coast of Nicaragua. See the lay of the land in all its splendid beauty; swim, jump from cliffs, fish or snorkel, and enjoy a drink or few on this fun, all-inclusive adventure. We will finish the relaxing tour just as the sun magically sets over the horizon in tranquilo Gigante Bay.
HEALTHY FOOD FROM
THE Magnific rock cafe
Embracing the simplicity of food in a pleasant and home-style setting, everything possible is made here; from the hand churned butter to daily baked breads, fresh pasta, pastries and heavenly desserts.
Every healthy detail in the kitchen has been taken care of. We use only the freshest of fresh ingredients. Our beef is locally grown, Grade A Nicaraguan Beef (exported internationally). Our seafood (lobsters, mahi-mahi, sea bass and other local favourites) is caught in the waters of the nearby fishing village Astillero, and our crisp vegetables are delivered daily from nearby Popoyo farms. We have our very own herb garden, and fresh fruit goes into making an array of rejuvenating smoothies.
Daily specials are created by our talented, up-and-coming chefs presenting locals flavorsome dishes with visually appealing, creative flare. We also have a fresh juice of the day, a daily vegetarian special, and can cater to other special dietary requirements.
Life Force can help you with booking information for the best travel and flight itineraries, hotels, restaurants, and activities during your stay in Nicaragua. To get started, there are two possible routes to get here. Route 1: fly to Liberia, Costa Rica and then get a connecting flight from Liberia to Costa Esmeralda Airport in Nicaragua. This is a small airport only 20 minutes from Magnific Rock. Route 2: fly to Managua. From there, we will provide 2 or 3 shuttles to transport guests from the airport to Magnific Rock. The prices above also include shuttles from Magnific Rock to the airport on the departure date. For either route we suggest coming a day early so that you have time to acclimate and/or deal with any travel delays.
Life Force can help you with planning and details for both routes and will provide suggested accommodations in Liberia and Managua. For all the details and individual questions please email us at info@lifeforceproject.com. We will be sure to respond within 48 hours and supply all the information and guidance you need to make your journey exactly what you're dreaming up.
In preparation for your trip, please read our Travel Planning Guide for important tips and information.
We are partnered with a premier travel agency that will make your travel planning stress free. Exito is 100% focused on air and is the leading flight consolidator for the adventure travel industry. For over 20 years, they have specialized in bringing a personal and seamless experience to booking international flights. At no extra cost to you, they can assist you in finding the routes and flights that best fit your needs. Click their logo below to fill out an inquiry form.
A valid passport is required for all foreign visitors to Nicaragua. An entry visa is purchased for $10 upon entry for American or Canadian nationals. Please inquire with the nearest Nicaraguan consulate for entry requirements for other nationalities.
In preparation for your trip, please read our Travel Planning Guide for important tips and information.