Heart of the Sacred Valley, Peru

yoga | trekking | ceremonies | volunteering
re-energize your soul
Opening to a wider vision of the world helps us as individuals to come home to ourselves. Life Force is honored to present for the sixth year in a row this mystical and opening nine-day experience in the heart of the Sacred Valley of the Incas.
Our days are filled with explorations of the stunning Peruvian landscape, including famed Machu Picchu, heart-filled service work, ancient Shamanic ceremonies, and authentic Peruvian culinary and artistic experiences. All interwoven with an intentional deep practice; taking refuge in our own bodies, breath and intentions on the yoga mat.
A trip like this is not only mind-blowing, but inevitably heart opening. Immersing yourself in other cultures and the yogasana practice are about humility, which gives us passion, perspective and purpose and we become humble warriors.
Join us on this immersive journey to reconnect with your inner warrior and find inner peace and happiness within the sacred Peruvian mountains.

THE DETAILS:
SLEEP ~ 8 nights at an eco-chic lodge
YOGA ~ Daily asana yoga classes, meditation, breath work
EAT ~ 3 daily Andean inspired meals
SERVICE ~ Seva project with Ninos Del Sol
TREK ~ Trek to ancient ruins of Moray, Hike to sacred Mt. Chicon with local shaman guides, Explore the magical ruins of Machu Picchu
EXPERIENCE ~ Shamanic Sound Healing Journey, Welcome Despacho Ceremony, Traditional Shamanic, Live demonstration of artisan textile work Purification Ceremony, Train ride through the Andes to Machu Picchu
All ground transportation provided once you reach Cusco

DATES:
October 19-27, 2019
LOCATION:
Sacred Valley, Peru
Cost:
$2450 Shared Room
$2850 Private Room
Deposit: $750
yoga
I'm a gentle yoga teacher. I encourage my students to adopt an attitude of gratitude and loving kindness to their bodies, on and off the mat. Because so much of the rest of the itinerary will be full and active, the daily yoga practice will be accessible, nurturing and meditative. The effects will be warming and loosening the body to prepare for the other adventures, and calming and centering the mind after the stimulation of travel.
the children of ninos del sol
Niños del Sol is home to a lively family of 23 Peruvian children. These children came to Ninos del Sol alone in the world, orphaned or abandoned. Nearly all of them have been abused and arrived with trauma of some sort. Viviana and Avishai, the directors and caretakers of Ninos del Sol, are providing these orphans with home, family, education, organic food, love and a chance at a future.
Plan to work with the Ninos del Sol on a special, customized project based on the current needs of the organization. We plan to maximize our group resources and contribute with our hearts, hands and minds to improve the lives and opportunities for growth of this beautiful family.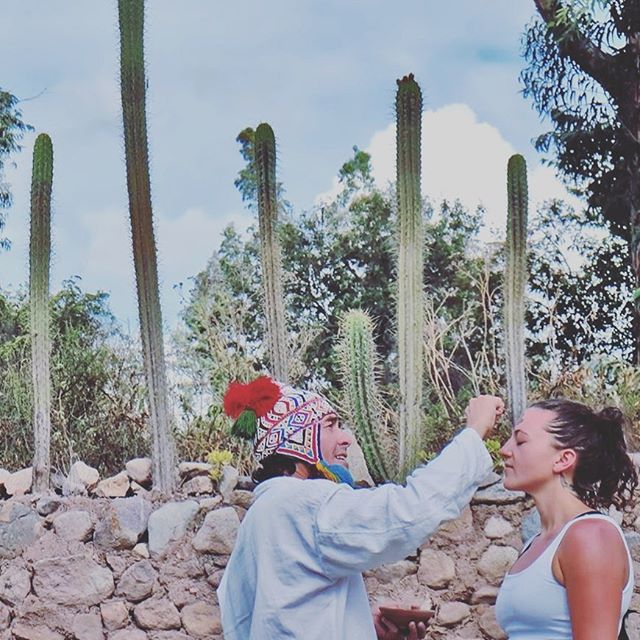 Pago a la Tierra / Despacho
The Incans honor Pachamama or Madre Tierra (Mother Earth) as the divine protector and provider of life. This shamanic ritual invokes Madre Tierra to honor Her for all that She gives. It is a traditional ceremony of Gratitude and Personal Blessing.
Shamanic Journey
Experience alchemical transmutation, chakra alignment, the awakening of awareness and intuition and a greater sense of connection as we take a shamanic journey with our Peruvian guides.
Musical Shamanic Healing
We will gather for an evening of music and healing with Peruvian sound healers. This one of a kind experience is a deep meditative journey of healing and visions.

The Journey to Machu Picchu, one of the eight wonders of the world, is a life changing experience for all those who are fortunate enough to visit this lost city. Nestled between two sacred peaks, Wanu Picchu and Machu Picchu, these ancient Incan ruins are a fascinating and mystical treasure. Our journey to this sacred city will begin at sunrise with a 2 hour trek, where each step builds in anticipation as we draw closer to the gates of Machu Picchu. Once inside, we will honor this powerful vortex through ceremony, meditation and the simple experience of being.
Apu Chicon
Apu Chicon is a sacred mountain that sits at the top of the Chicon River Valley. It is one of the tallest in the valley reaching nearly 16,000 feet. This spectacular display of nature is capped with glaciated peaks and underlying native Keuena Forest filled with ancient trees.
Moray & the Salt Mines
Visit one of Peru's most well preserved ruins sitting on a high plateau of over 11,000 ft. This area is home to a highly sophisticated Incan agricultural system with stunning views of the Sacred Valley. From here we will hike on to the Mineras de Sal, a spectacular natural wonder. Our journey will take us along an age-old crossroad where time stands still and the scenery is epic. This passage is still the preferred route for local indigenous Quechua.
accommodations
WELCOME TO Your Peruvian Home Away From Home
The Sacred Valley Lodge is perfectly situated under the gaze and protection of Apu Chicon, one of the largest peaks in the Sacred Valley and along the town square of Yucay, a quaint and charming Andean village.
Each room's unique design is inspired by local Andean cosmology with views overlooking the town square or the expansive garden and mountainous hillside areas of the property.
Lush, green landscaped gardens and a dedicated yoga space expand the 100,000 square feet of outdoor grounds. You may even encounter one of the property's llama during a morning mediation.
Organic, locally inspired foods prepared by our vegan chef, Julian integrate his indigenous Peruvian decent, Andean ingredients and his culinary and training in Mexico.
HEALTHY FOOD FROM
THE GARDENS OF AVISHAI
Avishai (of Ninos del Sol) is an artisan chef and avid organic gardener and will be providing us with nourishing food at the retreat center. The meals are delicious & healthy (mostly organic, vegan and vegetarian) cuisine and include a mix of local Andean ingredients, with Peruvian and
Middle Eastern fusion.
Our retreat to Peru begins and ends in Cusco. Book your flight to Lima, the capital of Peru. The airport code is LIM. Depending on the arrival time of your international flight into Lima, (many are night flights from the U.S./Canada arriving in Lima late evening or early morning), you may have to spend the night in Lima (contact us for hotel options).

Take a domestic flight from Lima to Cusco. Allow at least 2-3 hours in between your international and domestic flights in case of delays.
Flight time from Lima to Cusco is one hour. It is recommended to book these domestic flights in the morning as weather is typically better and there is less chance of flight delay or cancellation. We will provide a shuttle for the group from Cusco to The Sacred Valley at 12 noon on arrival day.
Our newest service, Life Force Concierge, can support travel planning and coordination including flights, hotels and pre/post retreat travel wishes. You can email info@lifeforceproject.com or click on our Life Force Concierge logo below with any needs regarding this service.
A valid passport is required for all foreign visitors to Peru. An entry visa is not required for American or Canadian nationals. Please inquire with the nearest Peruvian consulate for entry requirements for other nationalities.
In preparation for your trip, please read our Travel Planning Guide for important tips and information.